Sarab Al Ani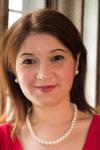 Senior Lector I in Near Eastern Languages and Civilizations
Address:
320 York St, New Haven, CT 06511-3627
Sarab Al Ani is a Senior Lector in Arabic. Her current research interests focus on using technology for language teaching, overcoming challenges that face students of Arabic in the U.S. Amongst other places, she had taught Arabic in Middlebury Language Summer Schools as well as Michigan State University. In addition to all levels of Modern Standard Arabic, her teaching interests include Modern Arabic Political Thought, Business Arabic, Arabic Narrative Prose, modern Arabic Poetry, Media Arabic, and Iraqi Dialect.
Previously, in the University of Baghdad, she taught linguistic-related courses in general linguistics, morphology, and phonology. She also worked in areas related to ESL and foreign language pedagogy. Moreover, she worked as a professional Arabic-English translator, a testing consultant and external examiner for several programs such as FLAS.
She is currently enrolled in the Post Graduate program of Foreign Language Pedagogy at Columbia University in New York City with a focus on teaching and testing Arabic in the US.
Recently, she has organized workshops including: "ACTFL's Language for the 21st Century: Practical Applications", summer, 2014,   "Arabic Online Testing with OWL" (Fall-2013).